By Robin Suzelis, Director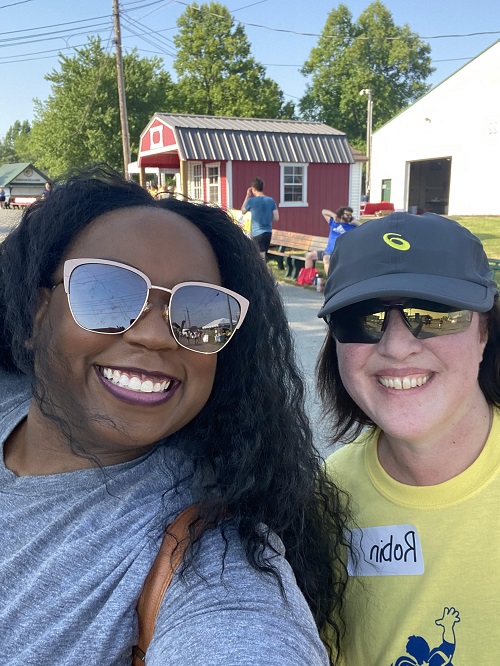 Photo Caption: Robin with Kris Moyo of the Autism Society of America at Warrior
We don't use the word Warrior lightly. We have so many Warriors in our Community. Our athletes came out to Warrior last weekend to help us raise funds, our sponsors who went above and beyond this year with their support, and then our families. Until you are a parent or direct caregiver to a child (any age) with autism you can't understand the struggles. These struggles greatly vary from individual to individual, but the lifelong extra parenting needed can be very difficult.
Every week I get calls from parents barely holding on due to communication struggles, childcare struggles, self-help needs, behavioral needs, and more. We know families need more support and nationally through the Autism Society of America and statewide through the Autism Society of Ohio we are working on these needs, but the resources will never truly be enough.
I always tell parents to stay a step ahead. If your child is getting ready to graduate from high school what are they doing the following week? A work program, part-time job, college or associates/certificate programs at a local career center, job coaching, and/or volunteer opportunities to work on job skills and communication.
If have a school-aged child then in the summer can you work different shifts or flexible hours to help provide childcare or who do you know that you can train for some summertime childcare? You would be surprised at how great others can care for our loved ones when we spend time training them.
As a mom to two beautiful boys, now ages 11 and 16 years old I've always had to do more and be creative. I am far from perfect, but my husband and I have always put our kids first, there was never another option.
At the Autism Society, I'm providing support and information every day to parents to help them obtain the resources they need so their children — of every age — have more inclusion opportunities. We offer events and programs year-round for kids, teens, young adults, moms, and dads to create connections for everyone in the family and so that families connect with each other.
Knowing we aren't alone and are facing similar struggles helps us keep forging ahead as Parent Warriors!
We welcome your support. Join us as we work together to create a more accepting world with the resources, support, services, and connections for the Autism community to live fully.